History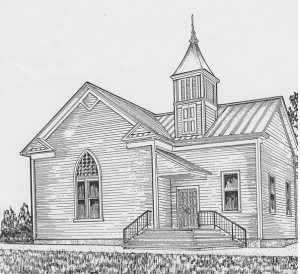 It is reported that the former church building was built around the turn of the century. It is assumed that the first meeting held in the old frame building was in 1903.
Old timers could remember when all of the churches in Pikeville met in an old building near the present site of the Pikeville United Methodist Church. This must have been where the Baptist Church was organized, moving later to the present location in March of 1903.
The property on which the church building now rests was obtained from the railroad company around the turn of the century. It is assumed that the old building was completed and bean use in March 1903.
Mr. and Mrs. Park Cooper gave the old parsonage, located across the street from the church parking lot, to the church. This house served as the church parsonage until the middle 1970's. At this time, the property was sold.
The present parsonage, located in the church yard, once belonged to Rev. Rutledge, who was the pastor from 1905 through 1908. However, even though the property was and still is in a very unique location in relation to the church, the church did not own the property until the mid-1970s. Rev. Rutledge sold the house and property to Andy Lawson, who lived in the house for many years. Mr. Lawson sold the property to Mr. And Mrs. J.V. Wiegle. When Mr. Wiegle died, the heirs sold the house and adjoining property to the church. The parsonage has been kept in beautiful condition by the church. New siding was added to the house in 1995.
Moving out by faith, the congregation voted to construct a new church auditorium and additional classrooms. This building is the result of faith, sacrificial giving, hard work, cooperation, determination and dedication on the part of our church family and the love and faithfulness of our wonderful Lord. The people of the church feel that their respect and love for the Lord is shown by keeping the building's appearance beautiful.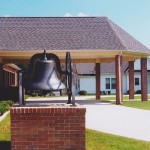 Although the congregation of the church had maintained the old building, the years bean to take their toll on the appearance of the building. The building was removed in 1999. The former old Church bell is now on display in the church lawn and can be heard every Sunday morning throughout the valley. In the year 2000 a new sidewalk, a circle drive and a porch covering were added where the old building once stood.
In 1996, the church began construction of what is known as the Church's Activity Building. Construction was complete in 1997. A note burning was held on June 13, 1999 to celebrate the pay off of the indebtedness of the Activity Building.
The building is used for church fellowship and activities along with housing the AWANA club Ministry and the Youth's High Impact Ministry.